It was a year ago tomorrow that I found out we were expecting our first child. Having gone through endometriosis surgery, chemically-induced menopause for six months, trying to conceive unsucessfully for nearly two years, discovering that my fallopian tubes were in fact blocked and ultimately going through in-vitro fertilisation (IVF), we were due some good news... and that particularly piece of news was due on April 7th, 2011.
I remember the day before I tested, only 7 days post-embryo transfer and being out shopping with my best friend, having to empty my bladder seemingly every half hour, and not putting two and two together until the evening, when a feeling of what I can only describe as 'oddness' coming over me. Waking cautiously (and nerviously) at 5.30am that following morning, I saw this:
Feint, but definitely a second line!
Hubby didn't really believe the result of the test (this was an 'internet cheapie' test strip, part of a bundle I brought on eBay several months earlier), and wanted me to test using a "real" test. So I did the following day...
No doubt about it, we were pregnant!
I cried seeing a heartbeat (and briefly breathed a sigh of relief at there being only one!) at our 7 week ultrasound, and then again at 13 weeks when it showed a baby-shaped foetus instead of a blob.
7 weeks
13 weeks
At 20 weeks, we found out that we were expecting a boy (much to our surprise; I'd been having major GIRL vibes!), and started planning the bedroom, buying cute clothing and all of the excitement that goes along with pregnancy.
20 weeks
As the months passed, my body changed shape and expanded to accomodate a tiny human, and with every kick, thump and wobble I would be thankful for the opportunity to carry a child (yes, even when the sore back and constant heartburn kicked in).
It was on my birthday (exactly a month before you were born, as it turns out) we settled on the name Rowan, hubby signing my birthday card from both him and the baby, and we kept this a secret from everyone until the big day.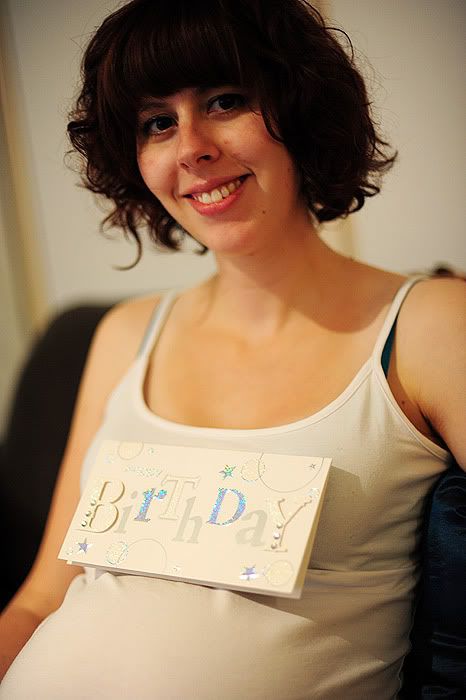 And so I continued to grow the not-so-tiny human we had affectionately dubbed "Manatee"...
Oh boy....
Before we knew it, I was 39 weeks pregnant and I went into labour, waking at 1.30am one morning with cramps and a sore back. 34 hours later, you were here (you can read the full birth story
on this page
).
Minutes old, our little Mr Serious.
What a year it has been, now I watch you at 3.5 months sleeping in hubby's arms contently, tired out from a day of play and discovery. Thank you Rowan for letting us be your parents.